Horoscopes: Fall 2020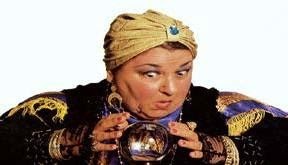 ARIES (March 21-April 19)
Your younger brothers will leave you in a Wal-Mart the next time you shop for aglets in bulk. They're so busted! 
TAURUS (April 20-May 20)
While singing the karaoke version of "She Thinks My Tractor's Sexy," the ghost of Kenny Chesney will approach you and whisper the encouraging statements found on cat posters in your ear.
GEMINI (May 21-June 20)
You will make the fatal mistake of refusing to acknowledge the elephant in the room, resulting in the trampling of your entire class. 
CANCER (June 21-July 22)
The title of the next song you hear on the radio will be your motto for 2020. Try not to listen to "I'm In Love With My Car," by Queen. Unless that's what you're in to. 
LEO (July 23-August 22)
Your hypnosis appointment will go wrong and you will be unable to stop clucking like a chicken whenever you are in the presence of a National Parks Service Ranger. 
VIRGO (August 23-September 22)
The next lockdown will put you in a small dark space for an extended period of time. Not to worry, though: there will be a stranger's heavy breathing to keep you company. 
LIBRA (September 23-October 22)
You will feel the compelling urge to punch Sigmund Freud in the face while buying a lawnmower. 
SCORPIO (October 23-November 21)
The new live-action Mulan will really Make a Man Out of You. Not literally, of course, but you will develop impressive telephone-pole climbing skills. 
SAGITTARIUS (November 22-December 21)
Your life will be completely shattered when you realize that raisins are just boomer grapes. 
CAPRICORN (December 22-January 19)
Your pitbull puppy will go to the groomer and come back looking like a koi fish. 
AQUARIUS (January 20-February 18)
Upon taking a dip in the New Trier pool, you find Aquaman's left nip. It's bigger (and better) than you thought it would be. 
PISCES (February 19-March 20)
Once upon a time I was falling in love,
But now I'm only falling apart.
There's nothing I can do.
A total eclipse of the heart.
Once upon a time there was light in my life,
But now there's only love in the dark.
Nothing I can say,
A total eclipse of the heart. 
Leave a Comment