New Trier Closes Bean Team
Popular coffee spot closed due to rampant moral degradation.
In another casualty of the New Trier School Board's war on drugs, the much beloved coffee bar in the cafeteria, commonly referred to as the "Bean Team," will be closing permanently, following several disruptive incidents caused by students wired on caffeine. Principal Don McMaffun wrote in a Canvas announcement, "It has become clear that the downsides of caffeine—sleeplessness, jitters, moral inadequacy—far outweigh any benefits that might be gained by a sweet cup of joe in the morning." 
Earlier in the year, Molly Buuze tearfully presented her story in the public comments section of a New Trier mom Facebook page: "One day, my son came home from school and couldn't stand still—he kept insisting that he had to pee. Not in my house!  That's when I knew I had to make reforms." Molly quickly created a grassroots campaign, Decaffeinate and Reform Education (D.A.R.E.), and got to work lobbying school board officials and speaking at meetings. Three months later, New Trier announced an official ban on all campus caffeine sales. Parent groups were quick to applaud this closure, with many noting that the move was long overdue. 
Unfortunately, the student body has not responded positively to the removal of the Bean Team. Flash Jolt complained that this would hamper his daily schedule: "I usually get coffee before school, during lunch, during free periods, during five minute breaks, during classes, and after school. Without the Bean Team, I'm going to have to spend three hours every day driving back and forth to Starbucks to get my caffeine. Do you know how wasteful that is?" Many students have shared similar concerns with the Near True News and warned that their caffeine withdrawal symptoms will make the school more unstable.
Today, New Trier security received fierce backlash when it posted a recent caffeine bust to Instagram. The photo shows three student-criminals standing next to a table with several dozen coffee pods, captioned, "Keeping New Trier safe, one caffeine dealer at a time!" New Trier administrators defended the security staff and its war on caffeine, claiming in a Canvas post, "The security staff is allowed to use whatever force it deems fit when regulating student substance use. The end justifies the means." Students in favor of reform to the new policy claim that the crackdown only creates forbidden fruit and that treating caffeine addiction as a health issue rather than a crime will yield more effective results.  
Though News Trier's crackdown has torn parents, students, and the administration into a heated debate on the role of caffeine in society, principal Don Mcmiffin, thinks that all these problems can be reconciled if students presented with caffeine "just say no."
Leave a Comment
About the Contributor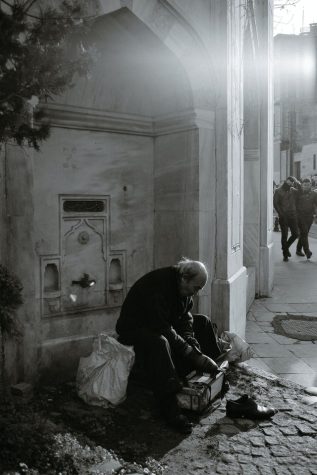 Ben S, Walking Contradiction, wins arguments by yelling the loudest
Ben doesn't think that being random makes things funny, but he does that anyway because actual humor is hard and memes are hip now. He is a major political...